Glassparency Glass Coating
Certified Glassparency windhield and glass coating installer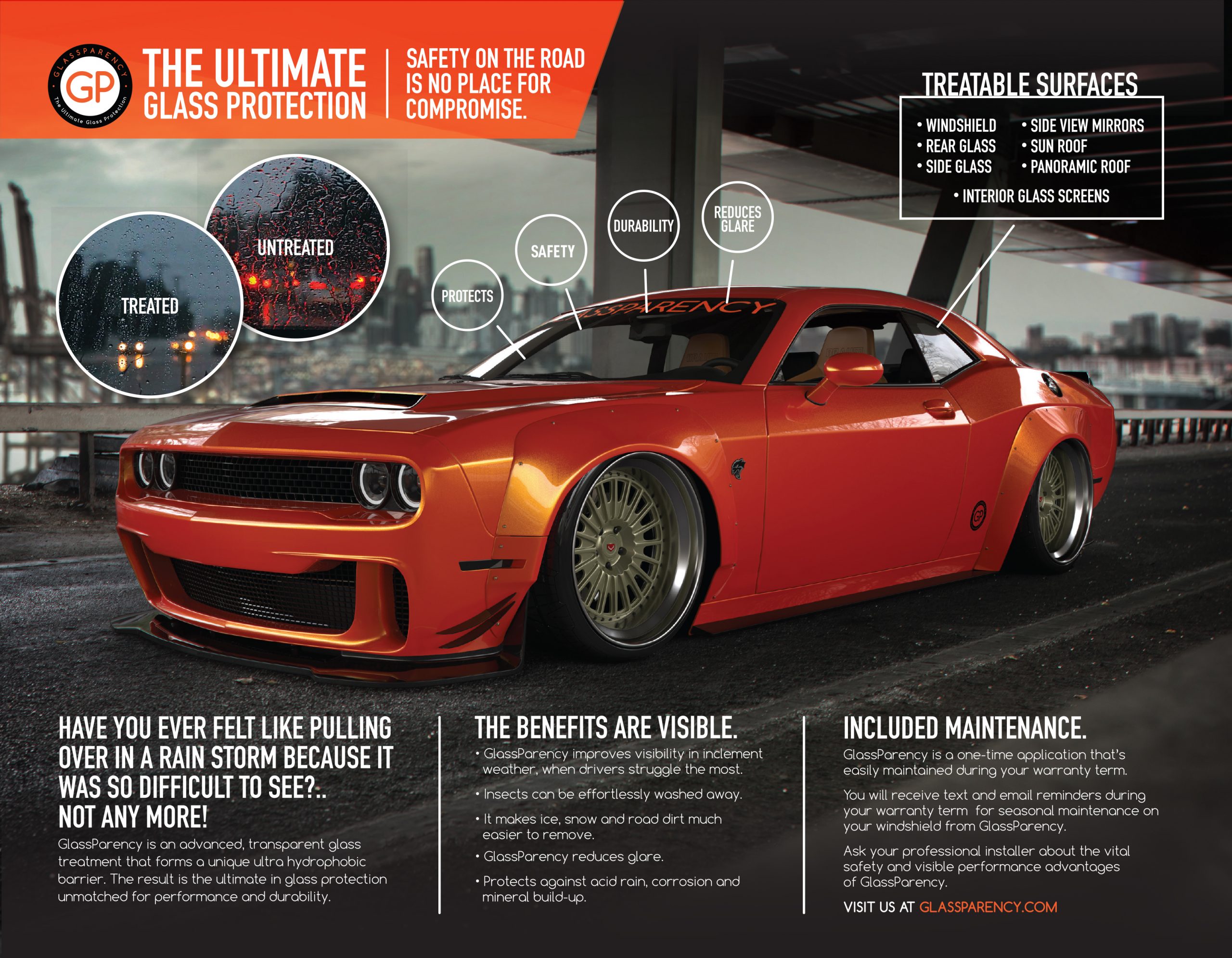 WHAT IS A GLASS COATING?
GlassParency isn't your standard wax or topical treatment. It is a two-part chemical application designed to only react to your glass. The chemical compound forms a ultra-hydrophobic barrier that is a longterm solution for all climates and weather. Cutting through rain, mud, and anything else, this coating is your best solution for increasing clarity and overall vision while driving.
GlassParency is the benchmark for long-term performance and is backed by a three-year warranty. Let's have a look at why glass treatments are a great way to enhance your driving experience on sunny days, in the rain or when it snows.Our ceramic coating offers a super slick and hydrophobic layer of paint protection that repels water, chemicals, bugs, road grime, resists UV rays and prevents scratches and swirls. When properly applied and cared for, this semi-permanent ceramic shield will last for years, requiring little more than a quick rinse when dirtied.
WHAT DOES A GLASS COATING DO?
Imagine you are driving down to Kansas City or over to St. Louis on the highway and it starts to rain. You turn on your windshield wipers only to find that the downpour continues to make it hard to see what's in front of you, even when the wipers are on the highest setting. Instead of the rain lying flat on the windshield, a coating of GlassParency will cause it to form droplets that you can see around. Your vision and safety are dramatically improved.
GlassParency also helps in the winter. If an oncoming car splashes you with slush, the ultra-hydrophobic properties make it easy to clear your windshield with only a pass or two from your wiper blades. The coating also makes it easier to scrape frost off the windows. We can treat the front and back glass, a sunroof or panoramic panel and even your side windows. Your rearview mirrors are another great place where this coating will add significant safety.
Improves visibility in inclement weather, when drivers struggle the most

Insects can be effortlessly washed away

Reduces glare

Protects against acid rain, corrosion and mineral build up

Provides overall safety and visibility advantages

3 Year Warranty on performance and durability
Windshield

Rear Glass

Side Glass

Side View Mirrors

Sunroof

Panoramic Roof

Interior Glass Screens
Want the ultimate water repellency on your glass? Glass coatings are a great way to repel water, rain, snow, ice, other foreign liquids and chemicals, and even helps prevent water marks on your vehicle's glass. This package applies a ceramic coating to the front windshield. Comes with 3 year warranty. Also includes free maintenance every 3 months with any of our services to ensure your coating performs as it should throughout the duration of your warranty period.